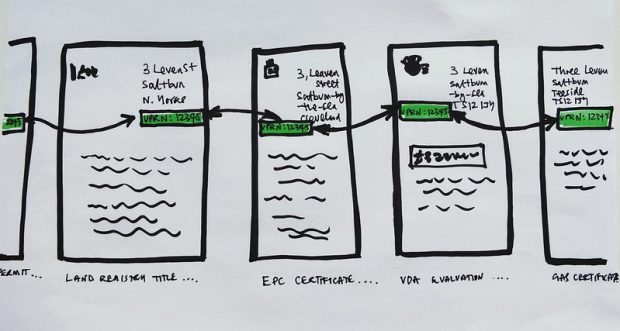 The Geospatial Commission has announced that unique property identifiers will be made available as open data under the Open Government Licence (OGL) from July 2020. The announcement comes after collaboration with MHCLG, other central government departments and the Geospatial Commission.
This is a landmark reform of how addressing and maps are dealt with in the digital world, enabling data to be better connected. In time, this will mean an end to inaccurate post-code based deliveries and will help the infrastructure of PropTech and new digital planning services.
What are unique property identifiers?
The Unique Property Reference Number (UPRN) and Unique Street Reference Number (USRN) are the identifiers for every addressable location and street in Great Britain. Allocated by local authorities, they provide a comprehensive, complete and consistent identifier throughout a street and property's life.
Just as every citizen has a National Insurance number and every internet-enabled device has an IP, every addressable location has a UPRN and every street has a USRN. The UPRN and the USRN are precise machine-readable identifiers that are integral to the functioning of services.
The scope of what constitutes an "addressable location" is very broad. Every flat or house will have a UPRN, but there are also UPRN identifiers for locations that need to be known to maintain critical infrastructure or support the efforts of emergency services (e.g. electricity substations, motorway markers).
Open identifiers are fundamental to our data and digital infrastructure. They form the backbone of easily used and linked data, and the UPRN and USRN allow data and services to be delivered more effectively. The UPRN and USRN help to remove errors in data exchange, deliver efficiency gains in operational processes and enable more effective service delivery.
The UPRN and USRN comprise characters in an agreed format (e.g. 1111111), which allow for a range of data, such as data relating to a building or street, to be collated and made easily available. The ability to easily link datasets removes the job of having to collate all data sets associated with a location. Property and address information can often be supplied in different formats, contain errors, and will not be easily machine readable.
Why is our team excited?
The Digital Land team's vision has always been to ensure that the housing and planning system is based on quality data, and is supported to create services that work better for users. Open access to the UPRN and the USRN is a critical step in removing the barriers faced by developers, planning authorities and government, and to support efforts to radically speed up the delivery of housing.
The wider significance of this announcement
The decision to make the UPRN and USRN available under the OGL will encourage greater use and remove any friction associated with what the data can or cannot be used for. While UPRN and USRN have been available to be used for many years, the restricted licence has meant that in practice the crucial identifier is not in mainstream use, especially in the private sector. Open access to the UPRN and USRN can unlock the value of other geospatial data and form the basis of a next generation of tech innovation.
These measures should mean an end to the problems where postcodes aren't accurate enough to get deliveries and taxis right to your front door. People will more easily be able to see housing and planning information relevant to their local area.
Developers will be better placed to identify sites to develop, enable a more advanced planning system and give the average person a better understanding of the housing and planning markets (such as the home buying and selling process).
This move by the Geospatial Commission is the most powerful boost for the UK PropTech sector in a generation. There will be far-reaching benefits and innovation still yet unidentified, which will be revealed as the market reacts to this move.