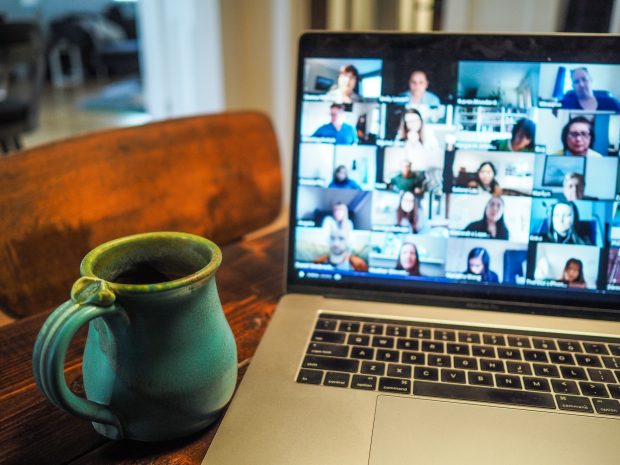 Over the last 6 weeks, the Local Digital team has run weekly Friday calls to facilitate discussions across local authorities, as teams respond to the coronavirus (COVID-19) outbreak. 
The local government response has been incredible and relentless. We have seen councils holding planning and committee meetings online for the first time and standing up new services to support thousands of vulnerable people and local businesses overnight.
A new digital normal is emerging and we wanted to start thinking about how we can support councils to respond to the challenges of COVID-19, and use the crisis as an opportunity for long lasting positive change.  
Hosting our first Local Digital
in the Ether
On Friday 1 May, the team hosted our first Local Digital in the Ether, a workshop to consider recovery and renew strategies, including what should and shouldn't go back to normal post COVID-19. 
We convened 40 local government peers from across the country and asked them:
What are the key themes surrounding recovery and renew strategies?

What has worked well and should be continued?

What should be dropped or fixed and why?

What needs to change, what are the blockers and what do you need help with? 
In the Ether is an approach to fully remote meet-ups and events. Participants collect ideas and vote on topics in a respectful, inclusive way. 
By limiting our groups to 16 people in each breakout session, we ensured that everyone had the opportunity to speak. This gave us lots of interesting viewpoints when we all returned for a group wrap-up session at the end. 
Common themes and challenges
Below are the themes that came out and were explored at the workshop.
Digital engagement and inclusion
Digital channels have become increasingly important during lockdown as local authorities provide more services online. We discussed how councils can support residents and ensure everyone has the connectivity infrastructure, equipment and skills to use digital services, stay involved and be part of local conversations.
Democratic engagement
Councils have done a fantastic job of finding new ways to keep their residents and communities part of the democratic process. Committee and planning meetings have been held online, but we discussed what's next and explored future scenarios including, how will online and face to face channels work together post lockdown. 
Attendees also raised questions around the Coronavirus Local Government Regulation changes. What happens when the changes come to an end? What Regulation changes should be kept and how does local government engage meaningfully to influence future Regulation changes, such as birth registrations?
Organisational culture 
Councils have demonstrated they can adapt and respond to new and unforeseen  risks whilst delivering at considerable speed. How do we keep this momentum going and make these new practices a blueprint for the future? There are areas to explore around:
How to plan and implement lasting improvements to services and processes?

Embracing the positive impact remote working has had on the workforce. 

Recognising that not every local authority is equipped with the right kit or in-house capabilities. 

Understanding what and how new practices have been successful and making these practices stick beyond COVID-19.
Community enablement
Local authorities have seen great success through their third sector partner collaborations, shifting towards partnership models, but how do we:
continue and develop third sector partnership relationships longer term?

maintain the current level of community response? There are engaged groups of people who have responded to the call to help vulnerable people. How do local authorities capture that spirit and use it for the long term rather than let it dwindle when the crisis subsides?

maintain 'holistic front doors' for residents and continue proactive engagement with vulnerable people.
Phased recovery 
In line with central government guidance, councils are starting to think about how to reopen and manage the demand on physical public services such as tips, open spaces, libraries and children centres. There is space for innovative thinking and collaboration to rework the delivery of our services around the needs of the people using them. 
As workplaces begin to reopen, there's a need to reassess what should and shouldn't continue as business as usual. What is the right blend of remote working, and how is it adapted across a diverse range of roles and departments? For example, how do you design a blend of face to face and virtual home visits for social care workers?
Supporting the local economy using digital and tech approaches
Economic recovery is going to impact every sector, but how does local government support businesses and get their residents back on their feet? There's a need to step away from our existing model to rethink what happened and how we'll rebuild for the future to get the economy going again. 
Data standards
Covid-19 has seen a shift in the willingness to share data between local authorities, central government and enabled working partnerships. How do we build on this momentum to push forward agendas on data standards and reusable technical patterns for data access to deliver our digital vision? 
Next steps
We now need to define the scope of these themes and drill down into the actionable things that will help us tackle recovery challenges together. 
Our next steps include:
Organising follow on sessions to workshop some of the common challenges outlined above and support local authorities in the delivery of successful post-COVID-19 strategies

Groups will be capped at 16 per session and follow a similar interactive approach to encourage discussion

We will collaborate with other government colleagues and partners to ensure we reuse and share where possible and avoid duplication.
How to get involved and keep in touch
On Friday 15 May we will be hosting our second instalment of Local Digital in the Ether, starting with the following topics:
Phased recovery for council services

Reopening and demand management of physical public services such as tips, open spaces, libraries and children's centres.

Organisational culture

Keeping momentum up
New skills and digital tools
New ways of working
Governance and decision making
Register to attend Friday's sessions and keep an eye out for future workshops through our Eventbrite page. To keep updated on all the latest Local Digital news, follow us on Twitter (@LDgovUK) and sign up to our fortnightly newsletter.