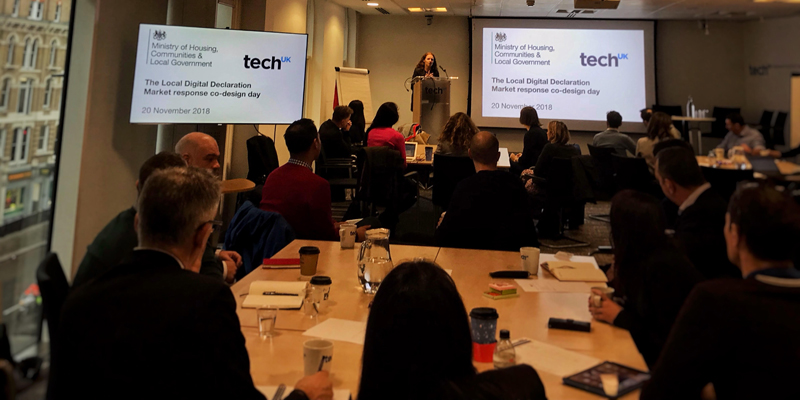 The Local Digital Declaration is a shared ambition for the future of local public services written by a collective of local authorities, sector bodies and government departments. From the start, suppliers wanted to support and sign the Declaration. But we decided that it was best to restrict signatures to non-profit, public sector bodies for now.  
Our second major step towards getting suppliers involved took place on 20 November, when tech suppliers and vendors were invited to explore different areas of response to the Declaration in a workshop convened by techUK and the Local Digital Collaboration Unit of MHCLG.
Continuing the themes of the previous techUK workshop on 16 October, the attendees contributed to one of 3 working groups:
building a community of vendors

running a local government procurement discovery project

exploring whether we could produce a single charter or vendor code of conduct to align with the declaration
Following a loose co-design workshop plan, each of the groups discussed the idea of what needs to be achieved and attempted to form a minimum viable product (MVP) outline.
Creating a vendor community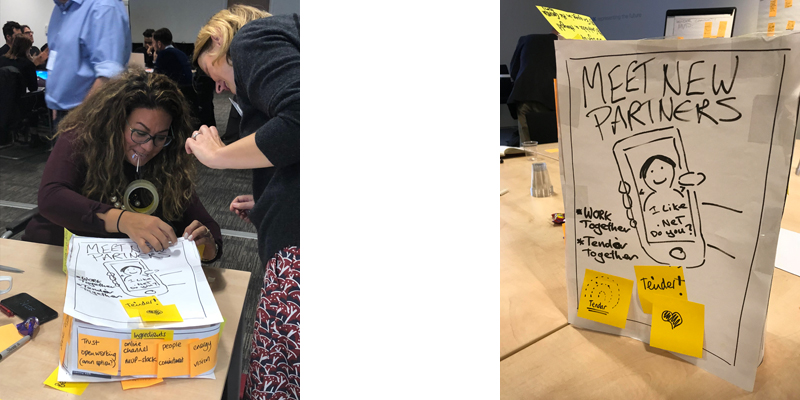 There's already a buyer community that Crown Commercial Service supports to help buyers share notes and lessons. So, the starter proposal was to develop an equivalent community for digital service and product vendors. This might help them collaborate in pursuit of Declaration-supporting projects.
An initial discussion highlighted the differences between small and large suppliers, ranging from global players to companies that have only 6 to 8 employees. The common theme was a desire for buyers to be better informed about the marketplace and the specifics of their briefs being placed on G-Cloud and Digital Marketplace.
Better informed and more specific briefs for jobs could allow small and medium-sized enterprises (SMEs) to quickly gauge their suitability for the task. Smaller vendors don't have dedicated bid writers, and therefore can't afford to spend time bidding for jobs that have vague briefs.
Some vendors discussed how they have already attempted to help buyers include more detail about the wider purpose of the work detailed in their brief. Creating a forum for this type of discussion and information quickly became the refined focus for the group. These conversations may not immediately result in a vendor gaining business - they provide long-term benefits to the market.
The forum discussions should be started by the buyers (local authorities) posting their questions or ideas to then be discussed with other buyers and vendors. The group also wanted to steer clear of the risk that vendors may attempt to pitch their services within this space, or contact the buyer outside of the forum.
The group ended up committing to creating a space separate to G-Cloud and Digital Marketplace to promote collaboration, rather than inviting pressure on buyers who are actively seeking advice. They'll test the possibility of anonymity for buyers posting their questions and propositions after using a prototype Slack community.
The group called this space "Tender". Like Tinder, but for local government procurement!
"A place where conversation, collaboration and innovation happens openly between buyers and vendors, to allow effective buying and selling to generate excellent outcomes for citizens."
With the mission statement agreed upon, a group exercise in producing a 'product in a box' helped to focus different elements of previous discussions. Having pitched the idea to the room, the vendor community then plotted a project timeline for further development and launching the forum.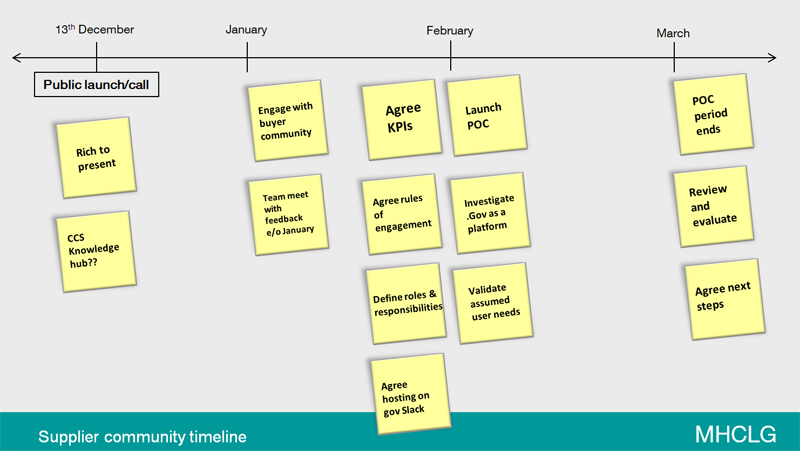 Doing discovery research on local authority procurement processes
The MVP of the discovery project was to "discover what good procurement looks like under the Local Digital Declaration to create a more open and flexible market". They hoped to identify common challenges and potential solutions through understanding how councils go about procurement and make decisions.
A combination of desk-based research (using previous case studies) and new primary research will form the basis of the project. The team first set about identifying important stakeholders in the procurement process, who will be able to explain what is currently working well and what is challenging:
digital buyers community

Local Digital Declaration flag bearers

organisations willing to be involved, but not signed up to the Local Digital Declaration

suppliers

various leadership roles within local councils - CEO, CIO, service managers, product managers, IT managers
The potential methods for these discussions include focus groups, interviews and webinars.
What would a successful discovery look like?
In the short term, the projected outcome of this discovery research is to create a tangible piece of research that could highlight next steps. This research will hope to:
provide an understanding of what has already been done

include viewpoints of suppliers, buyers and the multiple stakeholders within buyer groups

show common characteristics and habits of procurement, both good and bad

synthesise a general idea of what "good" looks like

make users feel that their views have been heard and are represented

understand how user needs (systems of stakeholders) are/are not currently met  

identify if there is a viable framework for procurement

find out what the barriers and blockers are to being part of a good framework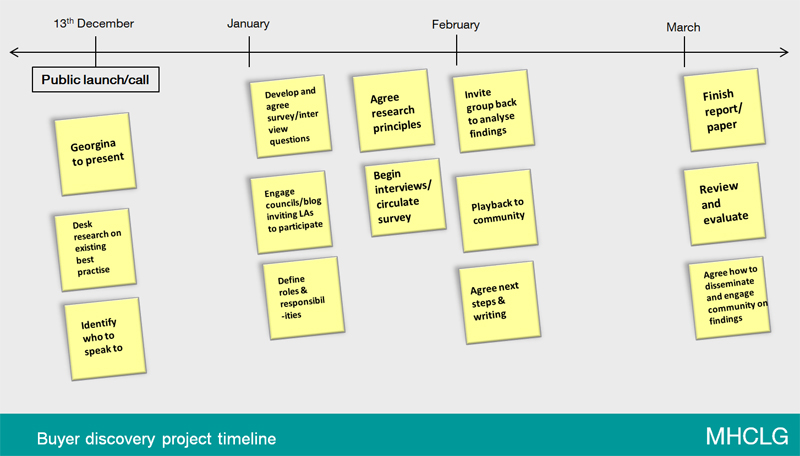 Developing a supplier code of conduct
At the beginning of the workshop, the code of conduct team had already gathered various editions of agreements and charters, with the aim of amalgamating those to fully align with the Local Digital Declaration.
As the team got further into their discussions, it became apparent that further work needed to be done before developing the product they originally had in mind.
One of the key objectives of this project was to build trust between local authorities and suppliers, allowing the opportunity to create an environment for a creative, innovative and competitive market. After better fleshing out the needs of people on both sides of digital service contracts, the team began to think that some measures and guides to evaluate products and services could be more powerful than a document organisations sign up to.
Further discussion highlighted that testing and market research would need to be conducted to understand the needs of a larger sample size of varying stakeholders. A number of products would need to be developed and tested to create a comprehensive measurement toolkit that worked for both buyers and suppliers. It might include measures for assessing adherence to the principles and commitments of the Local Digital Declaration, and a self and peer assessment tool.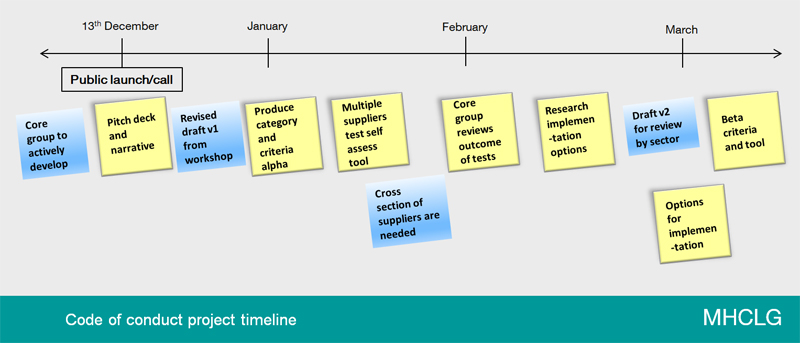 Next Steps
Each project team will share an update and invite collaboration at our holiday gathering on 13 December. The events will be happening simultaneously in London and Exeter, connected via live streaming.
If you want to find out more about the Local Digital Collaboration Unit, you can sign up to receive our newsletter or follow us on Twitter.