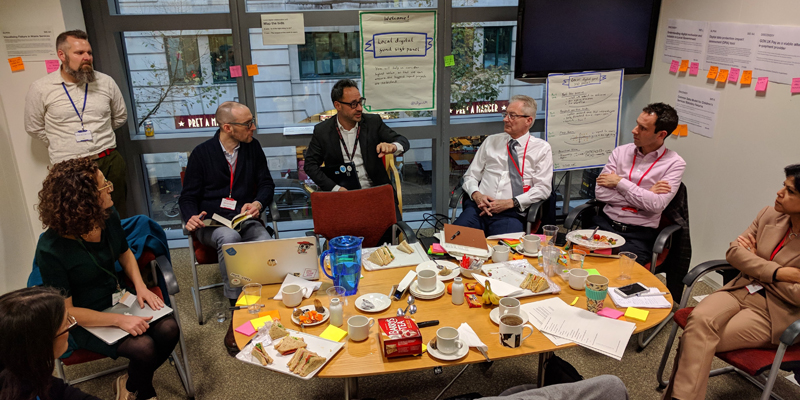 On 27 November, we joined the Local Digital Collaboration Unit team to review the projects they had shortlisted for Local Digital Fund awards.
The team received 77 full applications in total, and you can read them all on the Unit's website. In this blog, we'll report on our approach, our recommendations to the team and our reflections on the quality and diversity of bids we reviewed. We'll also tell you more about 3 of the projects we reviewed in more detail.
How the prioritisation workshop worked
The team shared a full database of 77 applications with us in advance, but as we had limited time together, we only delved into a third in detail - 27 applications in total.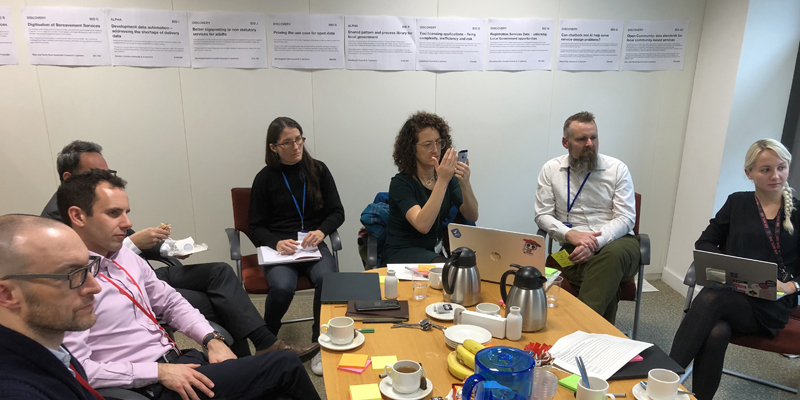 1. Ground rules
The 4-hour workshop started with the team summarising their process, reminding us of the published selection criteria and the goals of the fund. Essentially, we were to prioritise projects that would benefit many councils, that didn't preference particular proprietary software products, and that could help local government to deliver on the ambition set out in the Local Digital Declaration.
2. Project round-up and reflection
The team then talked us through each of the 27 shortlisted bids in more detail to give us a flavour of what was on offer. With a better grip on the shortlist, we spent the next hour in quiet-ish reflection, reading full bids in detail where we wanted to clarify things, and marking up the projects with 'hopes', 'fears', and 'notes' - especially where we recommended a project draw on work we knew about.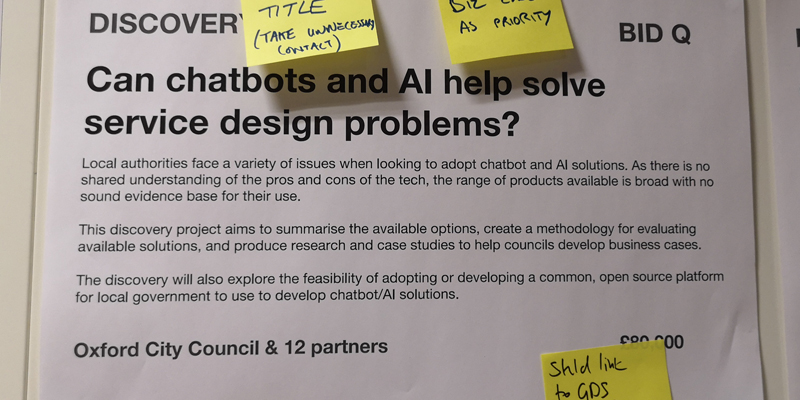 There were 5 Collaboration Unit members on hand in the session to answer questions, one for each panellist - though the hour was a fluid one rather than spent in strict pairs.
3. Prioritisation mapping exercise
We then had a couple of hours to plot these 27 bids on an x-y axis. After some discussion about how to compare and prioritise such diverse proposals, we resolved to work with 'how much interoperability and reuse it could unlock (while doing no evil)' on the x-axis and 'amount of human energy (or pain) it could spare and money it could save' on the y-axis.
This left us with 16 bids inside or close to the upper right quadrant. So, after much discussion and deliberation on how much of the budget we should spend now and how much we should save for scale up and implementation, we decided to recommend funding these 16 bids. We also recommended holding back a little extra for a more involved project that we're keen to see happen quickly...
Three special cases and what we decided
There were 3 projects that the team put forward that didn't fit as neatly into the shortlist when scored against other bids. However, because they thought there could be special value in starting a version of these projects in this round of funding - rather than encouraging applicants to do more work and apply again in round 2 - they brought them to us for independent feedback.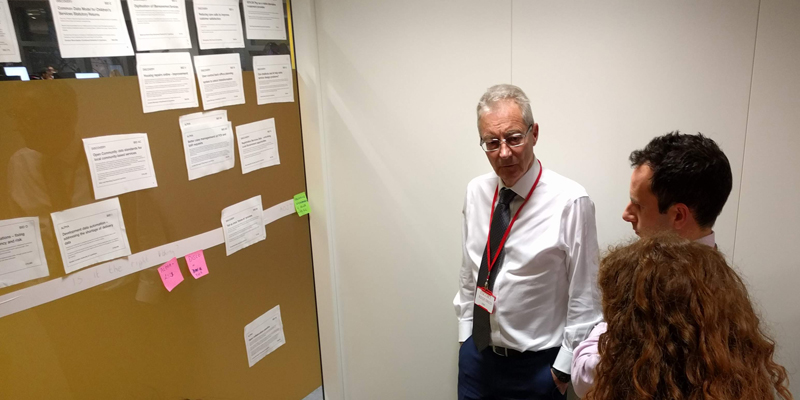 1. Visualising failure in waste services
This was the highest scoring bid in the environmental services category. However, as presented, it was not as focused on 'the plumbing', the underlying data problems that will make a solution scalable, as we felt necessary. Waste services consume a huge portion of local authority budgets, and there is already substantial discovery and alpha work done on data standards for the proposed use case - missed collections. Moreover, excellent work showcased at the Local Government Association's recent Digital Showcase could be used to inform the alpha. Given this information, we were keen to see a version of this project progressed. As such, if the applicants are willing to modify their approach a little to build on the qualifying discovery and alpha work done, we recommended that they be offered alpha funding.
2. LocalGov Digital Pipeline
This project is one that the Local Digital Collaboration Unit was especially interested in, because their mission is to help councils collaborate more effectively and the Local Digital Declaration commits signatories to 'working in the open wherever we can, sharing plans and experience, working collaboratively with other organisations'.
Local Gov Digital, the network for digital practitioners in local government, have pioneered this through Pipeline. The project was originally launched as an alpha in 2014 with an ambition to expose transformation plans across the sector, and break the cycle of local government developing or buying the same things separately in each council by being able to coordinate their project work.
More recently, Hackney has supported Pipeline by working with LocalGov Digital and others to launch a further iteration of the product, posting their digital portfolios onto the platform. This is beginning to see signs of traction, with a growing number of projects listed.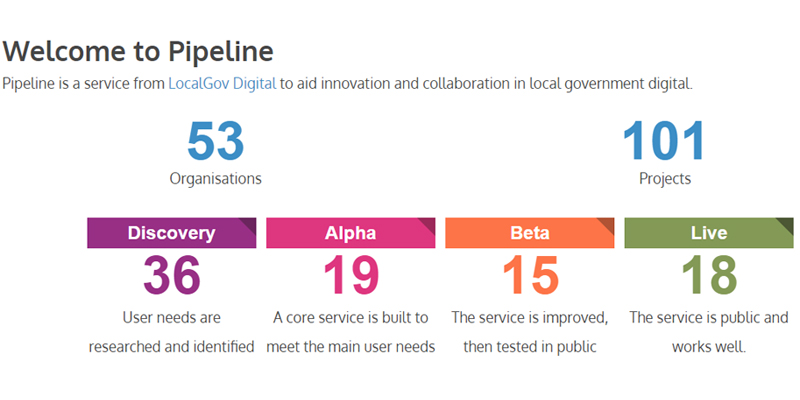 Alongside this, the Collaboration Unit's own experience through the recent bidding process for the Local Digital Fund has shown the power of developing a joined-up view of digital initiatives across local government. This has helped to align bids to the fund and create new partnerships between councils wanting to develop similar ideas.
We have therefore asked the Collaboration Unit to work with LocalGov Digital, Hackney and other participating councils to explore how they might support the further iteration of Pipeline, encourage its adoption across the sector (for example, by running future Local Digital Fund applications through Pipeline) and integrate Pipeline into the Collaboration Unit's ways of working.
The Collaboration Unit agreed to make this one of their priority areas of focus in the next quarter, allocating some staff time to supporting this work and holding back some funding to invest in any additional team members required to deliver the next iteration of user research and a product that works for everyone.
3. Pattern Library project
Like the above project, this is something that has been discussed in our network recently, and we imagine that in the future, it could be a really valuable product. However, the panel felt that it could use more discovery work before qualifying for alpha funding - though we thought it well on its way. We discussed that our priority should be to fund the development of some best practice patterns before we fund the library for them. We therefore recommended against funding this bid at this point in time.
We are hopeful, however, that with some help from the Collaboration Unit team to help fund winners to work in an open and agile way, we will start to develop a common language for their outputs. By sharing emerging templates for common outputs between teams, the Unit aims to develop best practice templates to help drive the development of more common tools and patterns in the future. We therefore hope that this work helps to inform the need for and design of a pattern library in the near future.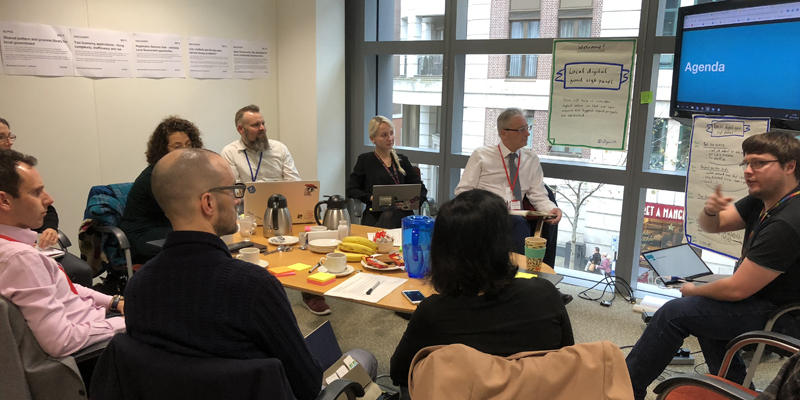 Our reflections and next steps
We were extremely impressed by the quality and diversity of bids. All those discussed contained valuable ideas, and the fact that we wanted to fund so many is a testimony to the quality of work presented.
The Local Digital Collaboration Unit has released a lot more data on what has been proposed, and we'll be drawing the attention of our networks to this valuable resource in the hope that all projects - funded and unfunded - get as much support as possible to progress and deliver on our shared Local Digital Declaration ambition to #FixThePlumbing!
The panel
Eddie Copeland, Director of Government Innovation at Nesta. Eddie oversees Nesta's work helping government and public sector organisations reform public services and improve citizen engagement. He is also member of the Smart London Board for the Greater London Authority.
Gaia Marcus, Head of Data Strategy at the Department for Digital, Culture, Media and Sport. Having spent the majority of her career in the charity sector, specialising in Tech for Good and data innovation, and currently a trustee at Samaritan's UK, she is keen to understand how the delivery of the National Data Strategy can help unlock the power of data for people and places.
John Thornton, Chairs CIPFA's Technology Conference, has researched and authored numerous reports for CIPFA on Digital Technologies and is a member the CIPFA's Governance and Financial Management Panel.  He advises on public sector business transformation and innovation, and writes the monthly 'Technology Watch' column for Public Finance & Accountancy Magazine.'
Nadira Hussain, Director of Learning and Development for Socitm (the Society for IT Managers) and former Head of ICT of both Tower Hamlets Borough Council and Enfield Council.
Todd Asher, Media and Technology Lead, Bloomberg Associates. He's working internationally with local governments on digital strategies to improve the delivery of services to residents - from educational and public-private partnership initiatives to digital communications and public engagement.