We launched our Declaration sign-up service earlier this month, and in this blog post we want to tell you about how we're learning from feedback and improving it. We'll explain why we want all councils, including those who are co-publishers, to sign up and make their commitment to The Declaration. And we'll share some guidance for making a commitment.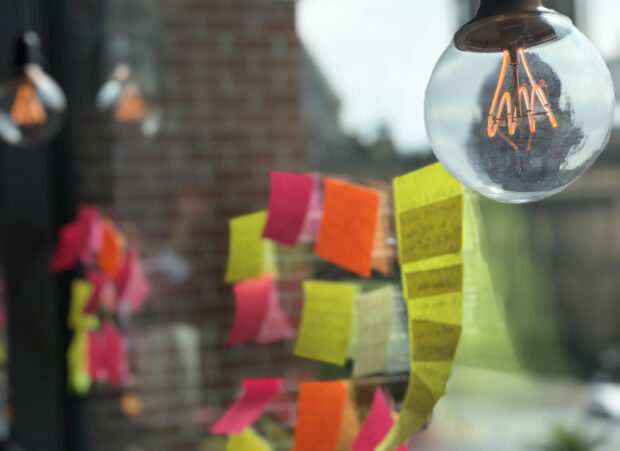 Firstly, kudos to the brave first Declaration service users. We got 10 applications to sign within 48 hours! These include national agencies like the Food Safety Authority, councils like Allerdale Borough Council, and some companies that work with local authorities.  More on why we've only approved the public sector organisations below.
It has been especially exciting to have organisations we hadn't worked with before sign up and share a bit about what they're doing. Finding new allies and projects to learn from is yet another testimony to the value of working in the open. How else would we find each other…
Why sign up to the Local Digital Declaration?
We recognise that whilst the local government sector is large and diverse, there are common ambitions and principles for delivering the services of the future that we can agree on. By articulating these principles in a common way, we hope to make it easier to justify investment in them. And by getting as many councils and supporting bodies signed up as possible, we can send a strong message to the market that it needs to change with us to meet our needs.
But there are some other benefits too. By signing the Declaration your organisation will:
be eligible to apply for Local Digital funding when it opens this autumn, from the £7.5 million available for collaborative projects and capacity-building

send a message to suppliers you're negotiating with that certain standards will be required not just by you, but all other other parties to the Declaration
We also think that signing up and committing to doing something in the open is something that councils are choosing to do to help their neighbours. By sharing a little information about an upcoming project you'll do in keeping with best practice Declaration principles, you'll help create a pool of exemplars that others can learn from. The more people who contribute, the more we hope to learn.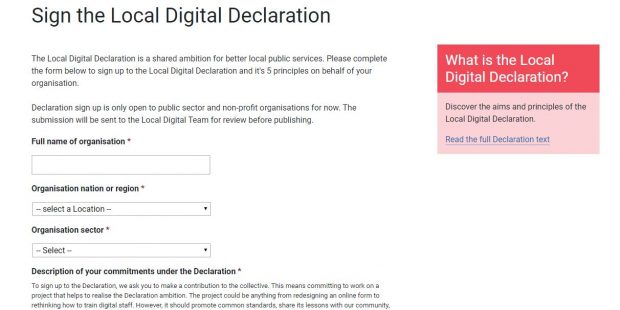 Things we've changed since the first iteration of the sign up service
Clarity that sign-up is just for public sector and non-profits at the moment
We don't yet have a good way to review private company commitments and be confident that companies we announce as signatories are truly supporting the ambition of the Declaration.
We've already spoken to excellent private sector supporters, and people in traditional IT companies that want to change with us. And we're keen to find a manageable way to get them involved. We've been talking with organisations like techUK to work this out, but we'll focus more on this next quarter. We'll blog about this evolving thinking and opportunities to influence it over the coming weeks.
Making it clearer that we plan to publish the commitments
It wasn't clear enough to people entering commitment information that they're writing for the web. We plan to publish all the commitments made to help everyone track and learn from each others' work. So, we've added that note to the front page of the service.
Clearer fields to outline what we're looking for in the commitments
The commitment section of the sign up service has evolved the most, as we could see that we hadn't really made it clear what we wanted as a commitment. To solve this problem, we split the commitment field into four separate fields and added more content to describe what we hope for in each field. We've also made some example commitments here to give a better sense of what we're looking for. If you follow this format, we'll be able to approve your submission to sign up without needing to ask for more detail.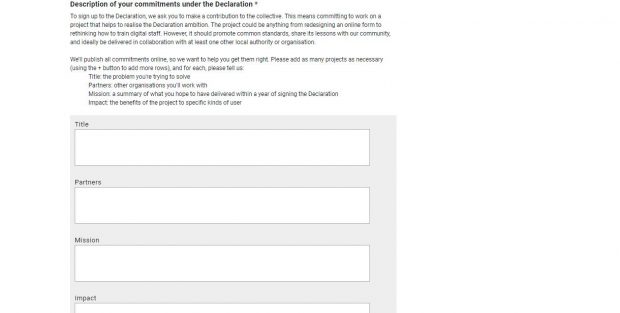 Guidance for submitting a commitment
To help you write up your projects, we've written 2 examples. Note that examples are about solving specific problems, or answering specific questions, rather than fixing organisational-wide problems. While the latter is vital, we believe that this community will benefit more from sharing smaller, specific case studies.
We've asked you to fill in 4 fields to explain what you'll commit to. This will help us tag and display everyone's commitment on our website soon.
Title: This should explain the specific problem you're trying to solve, or project you're developing, in just a few words. Pick a problem that others could learn from by reading about your project online
Partners: List the organisations you'll work with to deliver your project
Mission: This should summarise what you hope to have delivered within a year of signing the Declaration, and indicate how you'll do it
Impact: Explain to your peers how you think specific users will benefit from your project
Here are the examples we've made up to help understand what we're looking for in a Declaration commitment.
Made-up example 1 from a local authority

Title

Using open-standard predictive analytics tools to identify teenagers at risk of dropping out of secondary school

Partners

Local police service, Department for Education and Neighbour Borough Council

Mission

We will create a step-by-step guide that any local authority could use to identify teenagers at risk of dropping out of secondary school. We will work out what data is required, how to access it safely, and which algorithms best identified at-risk teenagers. We also hope to test our assumed reasons for teenage school dropouts to inform better interventions in the future.

Impact

The project aims to reduce the number of teenagers dropping out of secondary school, saving councils money by wasting less on 'stay in school' campaigns, which currently don't seem to be having a big impact in Made-up Metropolitan Borough Council.
Made-up example 2 from central government

Title

Creating a best practice guide or service pattern for administering older person's concessionary travel applications

Partners

Local councils x, y, and z

Mission

To design a best practice way to administer older person's concessionary travel pass applications. We'll do this by researching how a number of councils currently deliver the service, and what their users need of the service. We'll then use this research to inform a service pattern that any local authority could use to improve this service quickly and in line with the Declaration principles.

Impact

The aim of the service pattern is to cut the cost of putting applications for older person's concessionary travel passes online. It will help councils that use the pattern to eliminate the unnecessary manual processing of applications and reduce the number of calls to contact centres, saving councils money.
We'll keep iterating and improving
We hope the changes we've made to the service will make it easier for your organisation to sign up. We'll keep monitoring the success of the service and identifying improvements where needed. If you have any feedback from signing up, let us know by emailing support@localdigital.gov.uk.
Follow @LindaSasta on Twitter and subscribe to the Local Digital newsletter to keep updated.