We're delighted to announce that you can now sign your organisation up to the Local Digital Declaration using our new sign up service.  We're also launching a community events finder to help map meet-ups and events happening near you.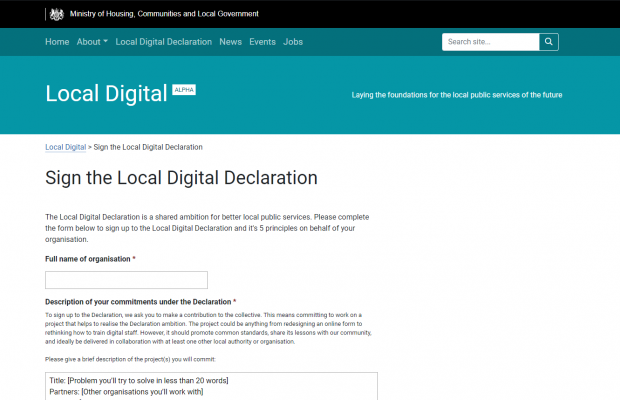 The Local Digital Declaration is a common aspiration for local public services written by over 40 organisations. Our goal is to get all public sector organisations to sign up, and to help deliver on the Declaration aspiration by providing some glue where it's currently missing. More on that in my last blog post.
How the sign up service works
In short, you just have to fill in the boxes on the online form. You'll be asked for the name and email address of the person who can give official permission for your organisation to sign up. We'll send that person a verification email with the information you've submitted and ask them to approve it and to digitally sign the Declaration. Once they've verified their support, you and they will get a copy of the Declaration they signed, and we'll add your organisation to the list of Declaration signatories on the website.
The small print
Declaration co-authors will know that all signatories are asked to show their commitment by contributing at least one project to the cause. The project could be anything from redesigning an online form to training staff to deliver better digital services. However, the project has to exemplify the principles of the Declaration. It should promote common standards, draw on work already done, share its lessons with our community, and ideally be delivered in collaboration with at least one other organisation.
We're particularly keen to support collaborative projects because although they're harder, things that are designed to meet the needs of more than one organisation have significantly better chances of scaling nationally and, in cases, internationally too.
So, when you're filling in the sign up form, you'll be asked to report the project or projects you'll do and share for the collective good. When we start to receive these submissions we'll design a way to visualise the information. We hope this helps inspire others to join in, and helps us all to connect with others doing interesting things and learn from each other.
Some stuff MHCLG has committed to in signing the Declaration
At the Ministry of Housing, Communities and Local Government (MHCLG) we've already signed the Declaration and committed to:
creating a £7.5 million innovation fund to invest in projects and training that helps local authorities to deliver on the Declaration ambition

building a website to help curate and promote the most important Declaration projects
building a community events finder service which launched this week!

launch collaborative project exemplars that produce common design patterns, data standards or other tools required to realise the Declaration ambition. These exemplars aim to make the case for collaboration and help us all learn how best to design and deliver these common products.
Our next milestone
We're hoping to announce the first list of trailblazing signatories at Localgov Camp on 21-22 September in Birmingham. So, good luck in getting your networks signed up. And in the meantime, we'll be keeping you up-to-date on this blog and via our mailing list.
Follow @LindaSasta on Twitter and subscribe to the Local Digital newsletter to keep updated.