In Paul's last blog, he set out the vision for a new directorate in The Ministry for Housing Communities and Local Government (MHCLG). It will drive internal digital transformation and capacity-building, help 'PropTech' entrepreneurs better serve the housing market and support councils in unlocking the benefits of internet-enabled technologies.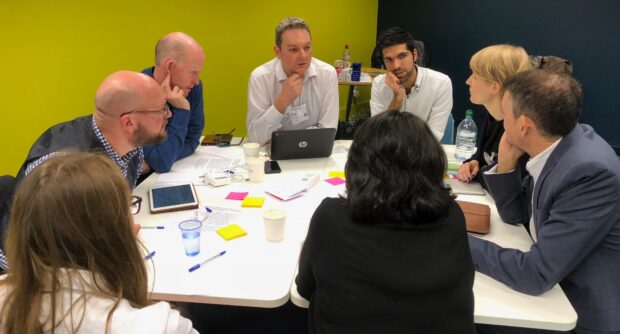 In this blog, I'll share our starter plans for the third of these missions and invite those of you working in local service transformation to inform our approach at an upcoming workshop near you.
Why a collaboration unit?
It's notoriously difficult to scale innovation around the local public sector. Technology designed for one local authority doesn't just slide neatly into another, because council systems speak different languages and their business processes aren't standardised.
As a result, many innovators and problem solvers struggle to serve local authorities - few new companies can afford to adapt their products for each client and councils spend more on tailored systems that do not join up more than is technically necessary.
Yet while councils can easily see the benefits of moving towards more standardised ways of using data and digital technology, no individual council can make it happen. In fact, even a small cohort of councils will struggle due to the national scale of their ambition.
Our aim is to enable these kinds of cross-sector projects to happen and to demonstrate government's commitment to driving a more open, flexible and interoperable (common rules allowing our technology to join up better) local service market.
We also want to make it easier for councils and investors to understand the common problems and opportunities in local government. There are many organisations doing great work to support councils on their digital journeys, but at times this too can make it hard to see the big picture, understand the biggest common pain points and identify the most promising examples across the sector.
So we'll also try to curate some of the best examples and highlight the common standards and patterns that every council needs to know about.
Our approach
Let's start with what we're not: We're not trying to build a single local government digital service and we're keen to protect localism and local sovereignty. Therefore the kind of common standards and patterns we're talking about won't weaken councils' control over their websites and service platforms. Nor are we replacing any organisation or double-tasking - there's plenty of work that already needs doing.
Rather, we want to create the tools and conditions to make it much easier for different groups who are best placed to develop a common standard, tool or design pattern to do these projects well.
We'll be guided by the needs of the local sector, working for and with the many council teams, representative bodies and peer groups advocating for change. We'll help our collaborators to uphold common design principles and ensure that everyone in the sector knows about the important standards and patterns that are being developed with and for them.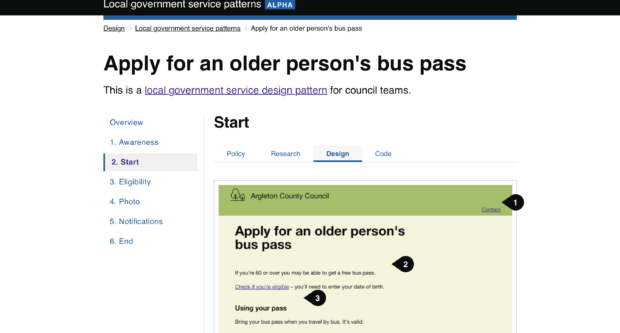 Some earlier pilots in this space have guided our approach - notably the 2017 local service patterns from the GDS Government as a Platform work, which sought to map the key components of a great, end-to-end digital parking permit or concessionary travel application service.
The earlier Local Waste Service Standards project also revealed a lot about how to stimulate the move towards interoperability standards for a well established service. But these are early examples. We'll run some more to keep improving our tools and impact, and we'll work in the open, using showcase events, blogs and videos to share our approach and lessons learnt.
Our challenge to you
Our team is just getting started, so we're still recruiting and researching where we can add the most value. We hope you can steer us towards the problems you care most about, either by coming to talk with us at a local unconference event, or by filling in this form to tell us about your upcoming plans and ideas for collaborative projects.
Follow Linda on Twitter and don't forget to sign up for MHCLG email alerts.
Register to attend one of MHCLG's upcoming roadshows where it will share its starter plans and workshop how best to meet local needs.