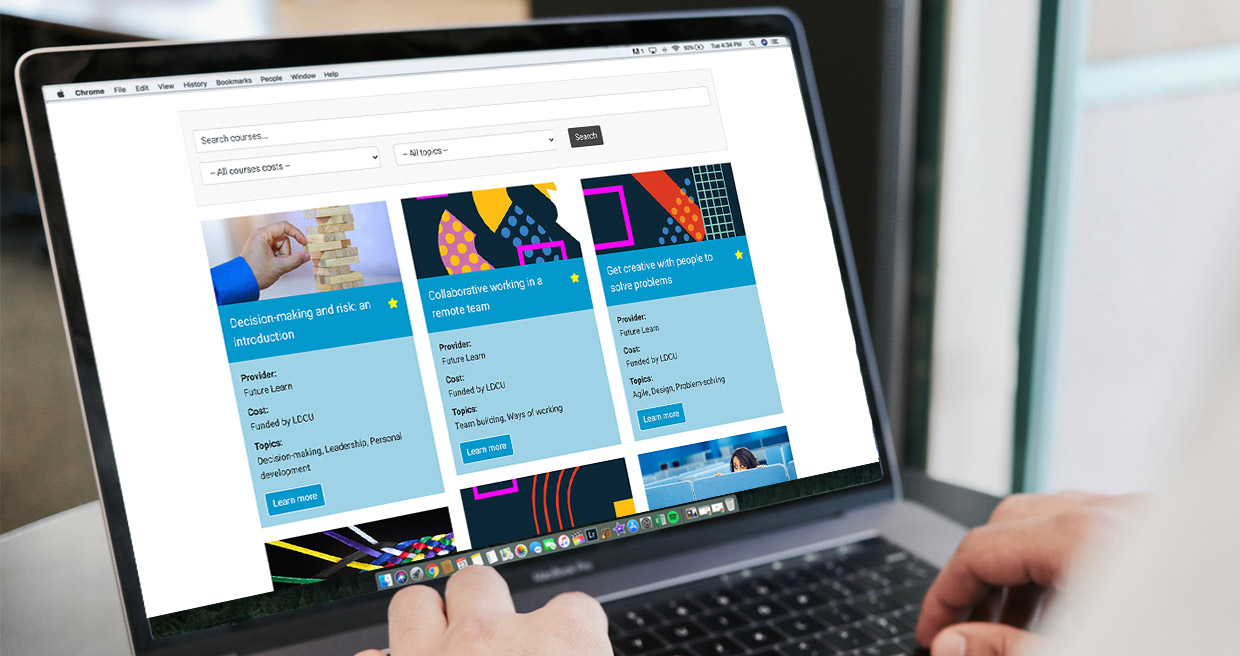 Authored by Sam Villis, Collaboration Manager at the Local Digital Collaboration Unit
Prior to the coronavirus outbreak in March 2020, we worked with the Digital Academy at GDS to offer digital skills training to our declaration signatories. Due to the subsequent restrictions, we have had to temporarily press pause on providing these classroom-based courses, although we hope to continue offering them as soon as it's safe for us to do so.
This has inspired us to develop an entirely virtual training offer that will ensure we can still support local authority staff to learn and develop their digital skills, as well as make it easier to find relevant training opportunities.
Now that the new training offer is ready to launch, I'm going to walk you through how we researched and developed it, and how you can take advantage of the opportunities available.
How we developed this offer
To investigate the user need in this space, we:
ran interviews with 7 people working within local government

participated in conversations at Local Government Design Community meetups and Local Gov Camp

had conversations with

Arfa Farooq

, Community Lead Delivery and Product Management at GDS

looked at training offerings created by 3 local authorities around digital and agile
These conversations were synthesised into overarching themes and requirements for training, and turned into user stories to help focus our offering. The user stories were then mapped to a long list of possible courses found through desk research.
Principles for our training offer
These user needs have translated into a set of principles for our training, namely that it should:
be focussed on common organisational barriers as well as digital practitioner skills, making it applicable to digital and non-digital colleagues alike

support collaborative working and promote diversity of thought and opinion

provide opportunities for reflective practice, recognising that when we understand our own motivations we are able to work with others better

make the best of skills that local government colleagues already have, not make them feel self-conscious about their "gaps" 

build confidence and empower teams understanding of these ways of working

support community and peer review practices

be practical, not theoretical
These principles have enabled us to develop a library of handpicked, suitable courses for developing digital capability in local government.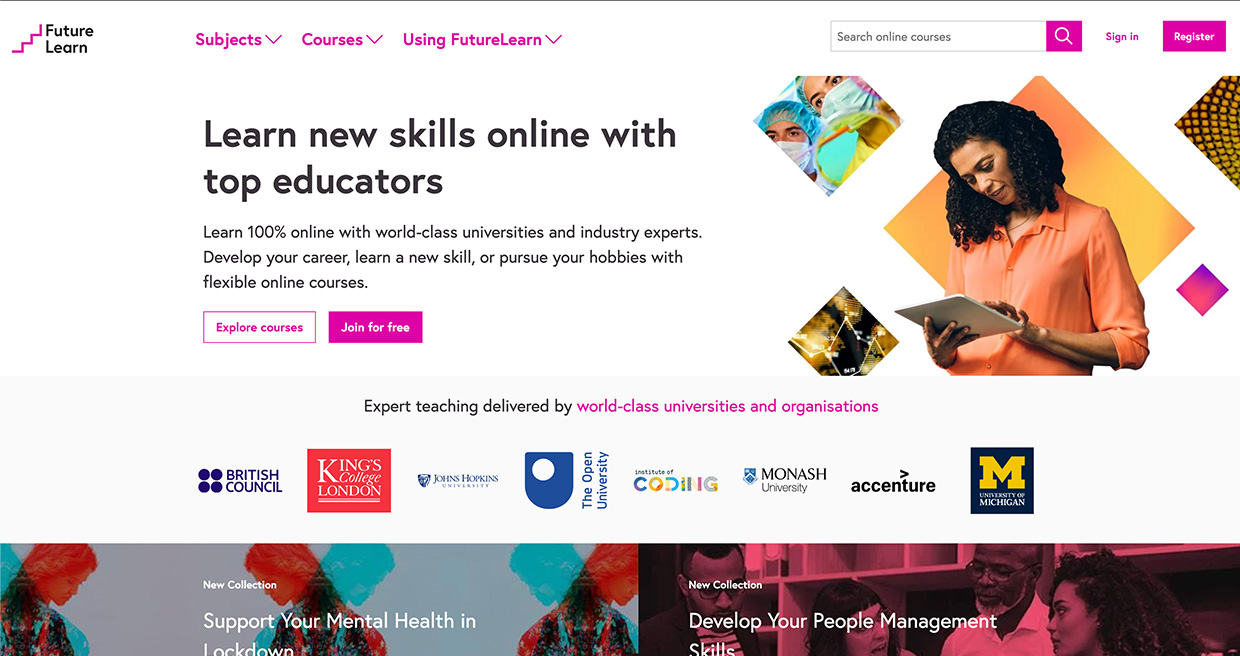 Discover our new training opportunities
The first part of our new training offer includes a series of certified courses that English local authority staff can apply to, paid for in full by us. 
We have purchased 350 licences with the online learning platform FutureLearn, which offers a diverse set of courses from established academic organisations such as The University of Leeds, Coventry and Durham Universities. It also has peer learning embedded, meaning you'll be studying with others who can offer support and advice.
We're inviting local authority staff to apply for one of 10 certified courses with FutureLearn, covering a range of topics such as accessibility, design, decision-making and leadership. We're testing the water with a small number of licenses and courses, but if we get enough positive feedback we'll look to purchase more and make it an ongoing thing.
But that's not all!
We've also created a library of online courses that anyone can access for free (or for a small fee) across a range of other platforms, including Open Learn, Apolitical and Acumen. 
And don't forget about the free Embracing Remote Work bootcamp we developed in collaboration with Apolitical, which is open to anyone working in local government. Over 4 weeks you'll receive expert advice on how to overcome common remote working challenges, best practices and tools, how to run effective remote meetings and working in agile distributed teams to design services.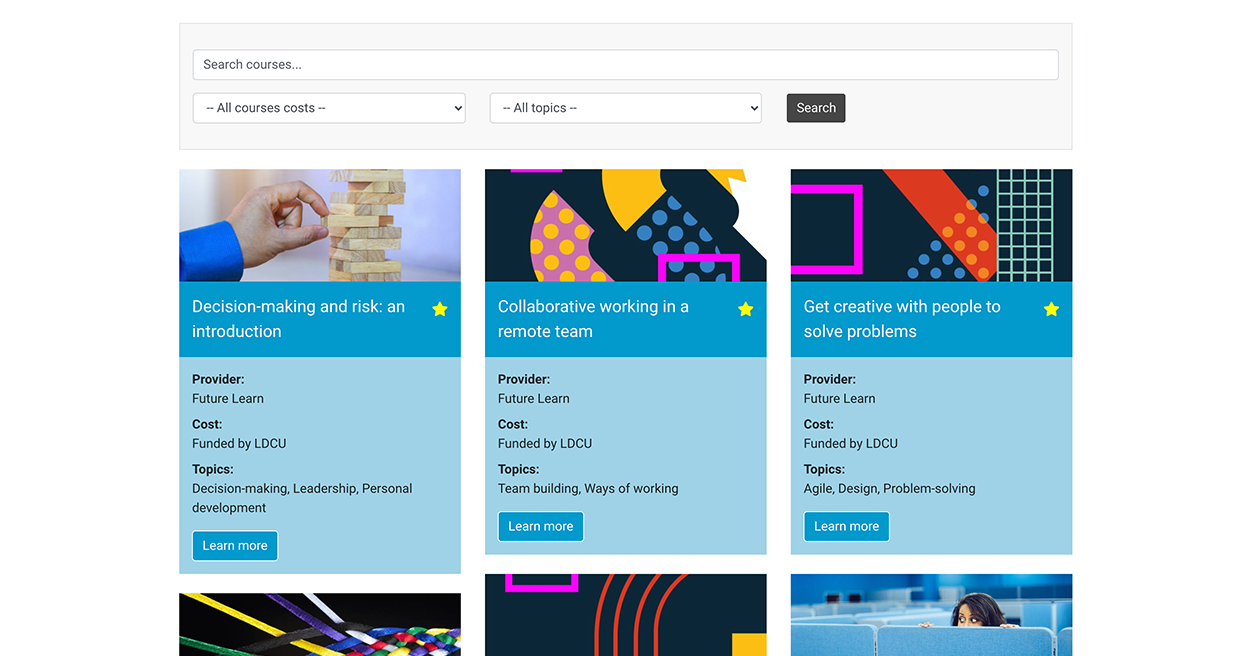 How to apply for a FutureLearn training course
Once you've browsed the library and selected the FutureLearn course that interests you, complete the form on the course page to let us know more about who you are and why you would like to apply.
Then, once you've completed your course, you will receive a certificate like this!
Next steps
We plan to continually build on and iterate this new training offer so that it serves as a really useful resource for local authorities. We're keen to hear your feedback on the opportunities we've selected, as well as any we might have missed, so that we can continue to refine the offer. If you have any feedback, questions or ideas, please email them to skills@localdigital.gov.uk.