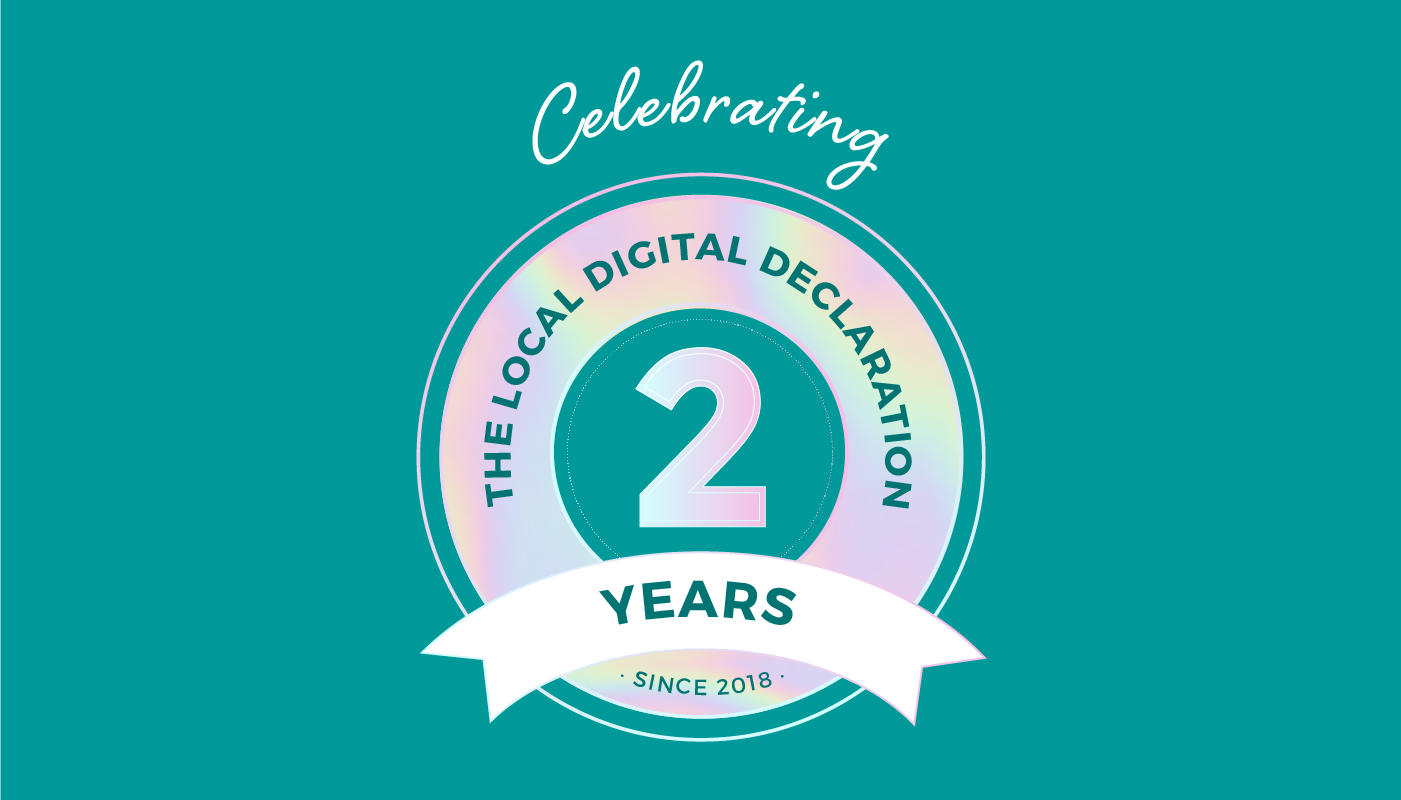 In July, the Local Digital Collaboration Unit celebrated the second anniversary of the Local Digital Declaration.
We hosted a month-long celebration to thank our signatories and partners for all their hard work and promoted some of the amazing digital stories that have taken place over the past 2 years.
In this blog post, we'll touch on some of the Declaration's biggest milestones and share an overview of what we got up to during 'Digital Declaration Month'.
About the Local Digital Declaration
The Local Digital Declaration was launched in 2018 as a shared ambition for the future of local public services by a collective of 45 local authorities, sector bodies and government departments.
The Local Digital movement has steadily gained momentum over the course of two years, and to date 223 organisations have pledged their commitment to providing better public services for their citizens.
You can read more about what inspired the launch of the Declaration in our one year anniversary blog post. Our Cyber and Technology Lead, Ben Cheetham, also talks about why it was necessary to create the Declaration, and why it's so relevant today, in this recent blog post.
What impact has the Declaration had?
In two years, the Local Digital Fund has run 4 funding rounds and funded 29 project phases - as well as our latest 11 new projects through the Local Digital COVID-19 Challenge. In addition, the Fund also enabled us to deliver free training to over 1000 council staff to help them deliver their digital projects and improve services, including introductions to agile ways of working and user centred design.
We asked our signatories to share their stories about the Declaration and the impact it has had on their council or organisation.
These are just a handful of the stories we received:
Isle of Wight Council
Isle of Wight Council signed the Local Digital Declaration in 2018. In this video, they explain how their commitment to being 'digital first' enabled their swift, effective response to the coronavirus pandemic.
Stockport Council
In a recent blog post, Stockport Council reflected on how they responded to the Local Digital Declaration. This has included collaborating with their residents to co-design new services and also hosting open days to share their ways of working with other local authorities and public sector bodies. Stockport is committed to learning and improving, and putting people at the heart of what they do is embedded within their One Stockport initiative.
Some of your stories in Tweets
Thank you to everyone that took the time to share their story, the response was incredible. There were over 200 Tweets sent during Digital Declaration Month and 35 council and partner stories shared. We want to share them all, so we are busy working on a way to pull these together in one central place and hope to share with you soon.
Celebration event
On Monday 27 July, we hosted a virtual event to say a special thank you to everyone that has helped make the last 2 years possible, and to celebrate the hard work and achievements from across the Local Digital community.
During his keynote address, Simon Clarke MP, Minister for Regional Growth and Local Government, told our signatories:
The Local Digital Declaration has enabled digital to be embedded at the heart of many councils, and together, you have made great strides in pushing digital towards the centre of decision making.
During the event, we had digital showcases from a number of signatory councils, you can watch them below.
Bringing the Declaration to life
During Digital Declaration Month, we unveiled a short animated video to make it easier to describe the Declaration's purpose, and highlight some of the core principles. We hope this can be used to break down some of the common misconceptions surrounding the Declaration, and becomes a useful asset when embedding the principles at your organisations.
What next for the Declaration?
At our recent virtual celebratory event, we spoke a little about our plans for the Declaration moving forward.
We want your ideas and opinions to shape this next phase of the Declaration, to maximise its potential and recommit to the principles. I want to support you in being ambitious, innovative and bold.

Please be assured you have my full backing, and I'll be writing to your chief execs to express my support. I want to celebrate the great successes of local government, but I also want to hear how we can best support and encourage this kind of innovation across the sector.

Simon Clarke MP, Minister for Regional Growth and Local Government
The local government response to the pandemic has shown us what's possible when people come together to collaborate, rapidly building services and harnessing the power of digital technology. As we shift to the next phase of recovery and renewal post COVID-19, this is our opportunity to be bold and drive the Declaration forward.
Now more than ever, the use of digital tools and collaboration is essential, and we're keen to hear your ideas for what the next phase should look like. We want to hear what we can do to best support our signatories and the Local Digital movement, and encourage even greater innovation in the sector.
Next steps:
In the coming months, we hope to run some follow on workshops to develop the idea of advocates within each council to further champion and enhance the principles of the Local Digital mission.
Council spotlight: we were blown away by the response to our #LocalDigital2Years campaign and we want to take a proactive approach to sharing these stories and case studies on a more regular basis. Every month we will be looking for councils that want to showcase their work and achievements to the Local Digital community, you can share by emailing campaigns@localdigital.gov.uk.
We're excited to be partnering with Digital Leaders Week 2020 (online). We will be encouraging our signatories and partners to take part by running their own events around digital leadership, transformation, tech for good, govtech, smart cities and AI & Data. There will be more to come on this soon!
Find out more