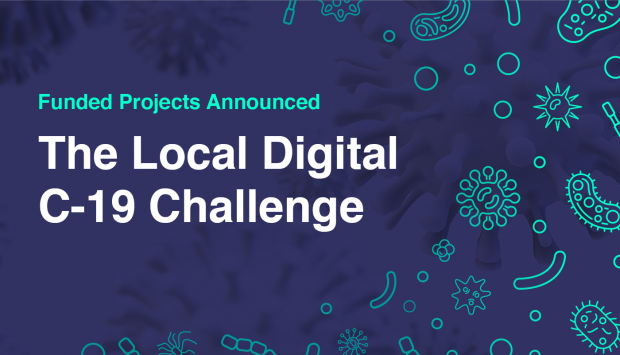 The Local Digital Collaboration Unit at MHCLG is delighted to announce the 11 projects that will be awarded funding through the Local Digital COVID-19 Challenge. This special edition of the Local Digital Fund was launched to support data and digital projects to help local authorities in England with their COVID-19 recovery and renewal efforts.
The Challenge opened for bids on 1 July 2020 and received 125 applications from 94 council signatories in just two weeks. The quality and number of responses really highlights the extent of creativity and innovation that councils are bringing to tackle the unprecedented challenges created by the pandemic.
We asked applicants to submit projects in one of three thematic areas: data and reporting, community engagement, and developing new working practises. These themes were identified as a result of the workshops and user research we undertook with local authorities earlier this year, to better understand the challenges that councils were facing with their COVID-19 recovery.
The decision-making process
Once applications had closed, the shortlisted applicants were invited to attend a virtual panel interview with members of the Local Digital Collaboration Unit and MHCLG. Thirteen project teams were interviewed over two days.
After deliberating, the successful projects were chosen based on their ability to solve COVID-19 renewal challenges and be reusable for other local authorities across the country.
The successful projects
A total of £800,000 of funding has been awarded to the following projects:
Modelling demand for post COVID-19 surge in children's services
The Greater Manchester Combined Authority has been awarded £80,000 for their project 'Modelling demand for post COVID-19 surge in children's services - an urgent project looking to model and anticipate the forthcoming wave of demand to help vulnerable children and families emerge out of the constraints of lockdown'.
Citizen focused data sharing to encourage economic renewal
Newcastle City Council has been awarded £67,500 for their project 'Data to inform citizens of crowding - a digital tool to identify where parts of a city are overcrowded and breach social distancing requirements, which disseminates information to citizens so they can make informed decisions about their movements.'
Improving data exchange between local authorities, partners and the VCS
Central Bedfordshire Council, Greater London Authority, LB Camden and London Office of Technology and Innovation have been awarded £80,000 for their project 'Improving information flows between councils and VCS - a project to improve the flow of data between councils and Voluntary Community Services, so that they can better support vulnerable residents and communities in the post COVID-19 environment.'
Designing future working patterns that maximise productivity, efficiency and wellbeing
East Riding of Yorkshire Council, North East, Lincolnshire Council, Hull City Council and North Lincolnshire Council have been awarded £76,000 for their project 'Designing future working patterns - a methodology to design new ways of working in a post COVID-19 world, to ensure staff remain safe, productive and develop innovations into future working practices.'
Developing a crisis response model to support Neighbourhood Team delivery
Manchester City Council has been awarded £80,000 for their project 'Speeding up neighbourhood crisis response - using the lessons learned from COVID-19 to improve the responses of council neighbourhood teams to emergencies and need for support.'
Enabling digital conversations
Bolton Metropolitan Borough Council has been awarded £23,000 for their project 'Facilitating face-to-face to remote interactions - a project to enable the digitally-excluded access and support to apply for council services.'
Beach check application
Bournemouth, Christchurch and Poole Council will receive £34,000 to add extra functionality to a smartphone application they have developed, which will help to prevent overcrowding on its beaches by telling people how busy sections are so they can do their bit to help maintain social distancing.
Inclusive Digital Place-based Engagement
LB Camden and Middlesbrough Council will receive £80,000 to develop practical approaches and tools for digital place-based engagement. This ensures local people and businesses can still have a meaningful say on planning projects, including major planning applications and town centre renewals, as physical distancing restrictions are eased.
Community engagement playbook
South Gloucestershire Council and Royal Borough of Kingston Upon Thames with LB Sutton, West Berkshire Council, LGSS, Oxford City Council, Staffordshire County Council, Northamptonshire County, Cambridgeshire County Council, LB Waltham Forest and London Office of Technology and Innovation will receive £80,000 to develop a community engagement playbook. It will include systems and tools that councils can use for public meetings, citizen assemblies and statutory consultations.
Digital inclusion toolkit
Leeds City Council and Croydon Council with Eastbourne Council will receive £79,500 to develop approaches and tools to enable councils to tackle digital exclusion within their communities, and prevent the negative impacts of sustained social isolation caused by COVID-19 in vulnerable communities.
Merger project
A merger of proposals will be worked on by Huntingdonshire District Council, Tameside Metropolitan Borough Council, Greater Manchester Combined Authority, North Yorkshire County Council, Bolton Council, Sedgemoor District Council and Somerset's councils. This group of councils will receive £120,000 to build on successful work to help vulnerable residents during the pandemic. They will use the information that's been most useful to improve and speed up how councils identify vulnerable people so they can predict and provide the right support.
Stay in touch with the progress of our funded projects
The funded projects will kick off by 3rd August. We look forward to sharing more updates on the funded projects over the coming weeks. To stay in touch with their progress: