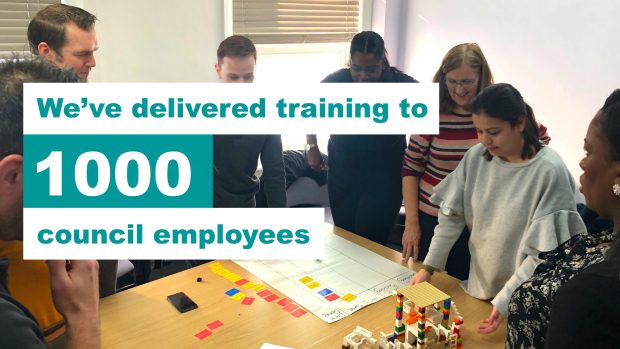 As part of our mission to support the 'Local Digital' movement, MHCLG pledged to train 1000 local authority staff with the aim of building digital delivery and leadership capacity within the sector. We are pleased to share that we have hit our 1000 milestone, with a further 300 council employees signed up to attend courses before the end of March. 
There are now over 200 councils committed to the Local Digital Declaration, a shared ambition for the future of local public services. We have delivered training to signatory council staff all over the country, building their capacity to deliver the digital projects outlined in their declaration commitments.
In partnership with GDS Academy we've designed bespoke courses for local authority staff, upskilling council officers through training courses that include:
Agile for Teams

Local Leaders Digital Accelerator

Introduction to User Centred Design

Working-level delivery manager, product manager, business analyst and user researcher courses
Changing ways of working
Our Agile for Teams course aims to introduce agile methodology and techniques, while helping teams to collaborate better. Attendees are able to quickly apply the teachings to their work area by incorporating their own scenarios within the course.
Agile for Teams is delivered at the local authority's office, enabling teams to to gain hands on experience in how to apply agile methodologies in their own working environment.
How you can get involved 
Training courses are completely free and priority is given to local authorities who have signed the Local Digital Declaration. If you or members of your public sector organisation are interested in attending any of our training courses, you can contact us at skills@localdigital.gov.uk for availability and eligibility. You can read more about each training course on our Local Digital website.
As we iterate our training offer to meet the needs of local government staff, we'll continue to update the content and delivery methods for our courses.
You can receive updates on our work and from the #LocalDigital community by following @LDgovUK on Twitter, joining LocalGov Digital and using their Slack community, and by registering to receive our fortnightly newsletter.