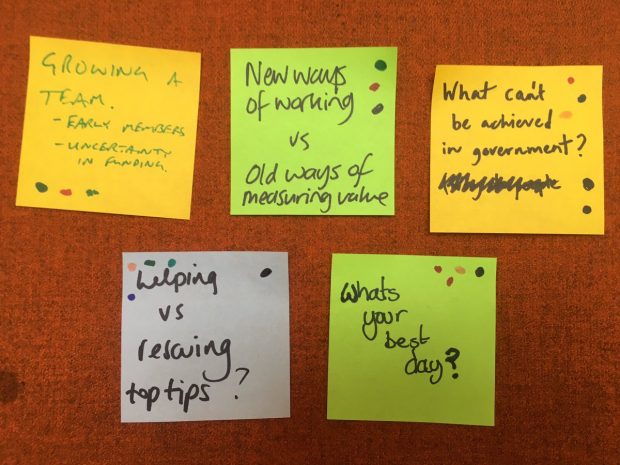 A few days ago, I spoke at a Global Government Forum event in London on a panel looking at policy innovation. It was a privilege to speak alongside colleagues such as Policy Lab's Andrea Siodmok and Andrea Schneider from the German government. But it also felt like an important moment to be asked to talk about policy as a Chief Digital Officer, the first time I've done so since starting my new role at MHCLG just over a year ago. I think this interplay between digital and policy will be a signature feature of the Civil Service in coming years, as we start to realise that wider government can learn from digital methodologies originally designed to manage uncertainty in software development.  
In government I still feel relatively unusual by sitting somewhere between the digital and policy professions, although it feels like there are more of us every day. I started in the Civil Service as a policy official 15 years ago. After various roles where I took on responsibility for designers, software engineers, data scientists and wider digital teams I'm back in a big policy department – this time as Chief Digital Officer. I'm responsible for ensuring my colleagues have modern laptops and that our department buys, builds and maintains digital and technology products properly. But I'm also drawing on my previous experience because running the digital directorate in a large policy department is different from running one in a department dominated by large transactional services to the public. The public don't go online to get services from MHCLG, and that changes things. 
Instead, MHCLG largely has a system stewardship role, with colleagues responsible for issues like the planning system, social housing, homelessness, local government and communities policy. We deal with the law, regulations, the setting of market incentives and big programmes that are often implemented through other organisations. Digital government types are often intrigued by this nebulous thing called policy, which is something I've previously blogged about, but for us it's the central work of our organisation. 
What does it mean to do policy work in a digital way?
I think our programme of work on Local Digital gives one good answer to this question.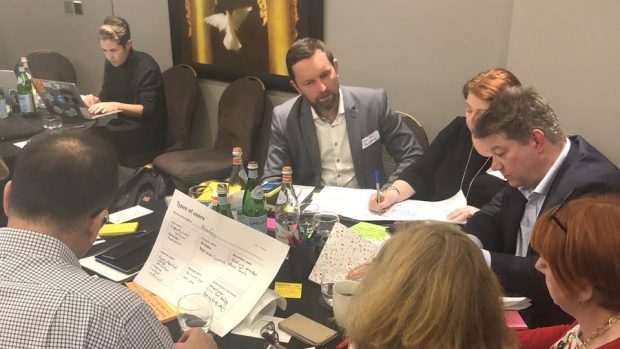 The programme is about MHCLG playing our part to improve local government's digital services and capability. It is the kind of work that the department might have done previously with a regular policy team. We'd perhaps have written a White Paper internally, consulted on it, and then launched a fund asking for bids from local government. There's nothing particularly wrong with that, but we realised the opportunity was much bigger, and so we formed a multi-disciplinary team with policy officials working alongside our growing digital team.  
There's a growing local government digital community out there that's striving to work in different ways, often wanting more senior buy-in, wanting to do more to grow their community and share and reuse patterns for modern digital services. But the regular policy process would likely not have captured the opportunity to build on that momentum. 
To galvanise the moment for change, we wrote the Local Digital Declaration with more than a hundred others collaborating in the original document. Forty-five other organisations joined us to launch it alongside the hashtag #FixThePlumbing, which the sector has taken up as a rallying cry for the movement. The Local Digital Fund has been built on the potential for collaboration, with funds only available to bids from more than one council. We've also seen lots of open sharing across the community through meet-ups and the LocalGovDigital Slack channel.  
As central government we're only one player in this digital community, but we have some powerful, sometimes neglected policy levers that can help promote change and further empower the individuals and teams across local government who have taken risks within their own organisations to start to break the mould.  
In the end, this project is all about shipping digital services in local government that better meet user needs. Now that the first round of funds are out of the door, this arms-length product delivery becomes a central focus for the team. But work like this is dependent on and collides with the policy process in government, and it has been satisfying to see this side of things done in a new way.
One Team Government as a 

future model of the 

C

ivil 

S

ervice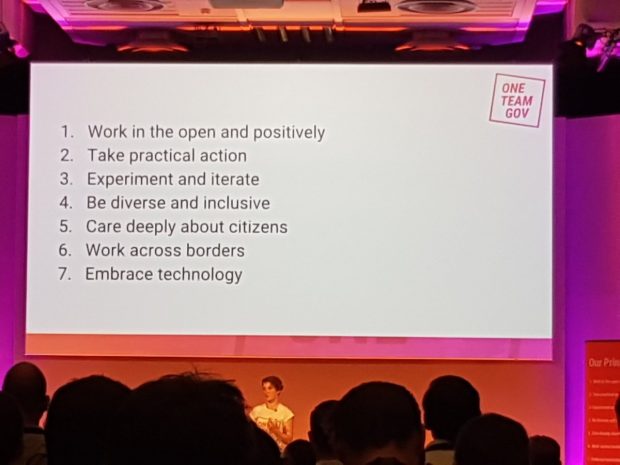 I'm proud to have played a small role in the OneTeamGovernment movement since its creation 2 years ago. This group came about after conversations between Kit Collingwood and James Reeve about the need for policy and digital to come together more. They wrote about it online and tapped into other individuals who had been wrestling with similar questions. Alongside the active Twitter feed and regular unconferences there are now weekly meet-ups, and the movement has gone global with chapters in Canada and Scandinavia. It has encouraged reform through practical action, including a focus on personal growth and empathetic leadership. Above all it's a community, united and guided by a set of principles.  
The reason why I'm so excited about One Team Government is that there is so much for the policy and digital worlds to learn from each other. I've written about this previously, but our policy processes often assume things will be more stable than they turn out to be in practice, and in these situations Agile practices of iterating services with rapid feedback based on 'outside in' user-research have much to offer. But the learning is certainly not all one way: policy officials are adept at managing the often delicate and contentious trade-offs between different public interests in a way that a more singular focus on 'user needs' can struggle with for activity outside of simple public-facing transactional services. Democracy is bigger than user needs. 
Increasingly, the opportunities to refresh and renew our professional practices is something we hold in our own hands. The ability to find, connect and learn from reformers across organisations (and across nations) no longer relies on a missive from the Most Senior Person. This is one of the great opportunities of the internet-era in government, and one that I personally find enormously energising.