Digital Land Policy is a new team at the Ministry of Housing, Communities and Local Government (MHCLG). The team is leading the way on the creation of a data-led, digitally enabled future planning and the housing system.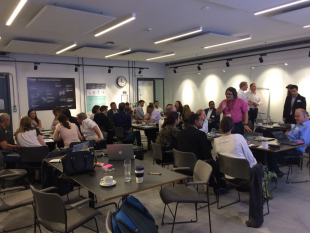 Our mission
Meeting the country's housing needs is one of the most pressing issues of our time. We believe that greater access to land, planning and housing data, along with modern digital tools will enable a more productive planning and housing system. This will then help to build the projected 300,000 new homes needed each year.
Our mission is to provide the leadership to make this happen, by creating the conditions for a 21st century planning and housing system. This will involve removing the policy and technical barriers to more accessible land, planning and housing data. We also want to build a community of digital and domain experts who can help us understand problems and build solutions that make the housing market work better.
If 

a 

d

igital

 approach

 is the solution

, 

what's the problem?
In large parts of the country we're not planning for enough homes, and we're too reliant on a small number of big players to build the homes needed. To address these problems, initially our work will be focusing on opportunities to:
support the process of

L

ocal 

P

lan

 making, with tools which allow for plans to be produced more quickly, identify more land for homes and ensure important data is accessible for users.
help smaller builders compete effectively to build more homes, by supporting tools which make it easier to find viable land for development.
make it quicker and easier for users to navigate the planning system.
enable a wider cross-section of the community to get interested in, have an understanding of and the ability to help shape the developments of  

Local Plans

 and new development proposals in their area.
This is part of a wider package of government measures to help make the housing market work better.
What we're doing now
Currently, we are working with partners across the public sector on the data foundations to enable new digital tools to be built. We are also working with local planning authorities, intermediaries such as the Future Cities Catapult (FCC) and private sector businesses to create a new generation of digital tools and support tech sector growth. 
How you can help
Let us know about any projects and ideas you think could help make the planning system / housing market work better
If you want to find out more, we're scheduling a series of further Blogs on our work over the coming weeks.