The recently updated National Planning Policy Framework and associated guidance introduced the expectation that planning authorities will publish their viability statements and developer contributions to increase the transparency of the planning process. Publishing data around developer contributions will help people better understand the effect developer contributions have on a local community.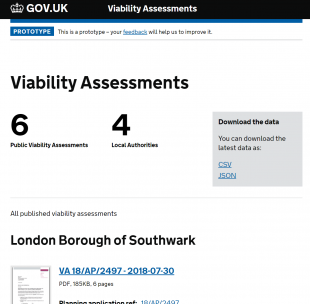 Digital Land Services
The Digital Land Services team are working with the developer contribution policy team to understand how the data should be published. We are also working with planning authorities to learn what tools and guidance will help the people involved in collecting and making the data available.
Working with users helps us learn how they will use the data, and means we can start with a minimal data specification that only includes what's really needed, and nothing more. We're building prototypes that we will test with users and iterate based on what we learn. We hope that this will minimise the impact to the teams within planning authorities responsible for collecting and maintaining the data.
Developer Contributions
Managing developer contributions is a complex process already. We want to work with planning authorities to understand how they currently record and monitor their Section 106 and Community Infrastructure Levy (CIL) contributions so we can minimise the work needed to make the data available. So far we've heard from eight planning authorities, many of whom use third party tools to manage contributions. As a result, we've begun to explore the possibility of adapting these tools to simplify the process of opening up the data, whilst supporting people who manage the data in different ways.
If you work for a planning authority who is already publishing viability assessment, Section 106 or CIL data, then we'd love to hear from you.